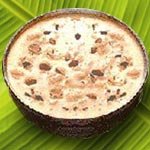 Ingredients:
Savorit Toasted Semia Rawa 250 g
Water 1000 ml
Sugar 250 g
Milk 500 ml
Ghee 50 g
Cardamom 5 no. (Powdered)
Cashewnuts 5 g (Chopped)
Raisins 5 g.
Cooking time: 10 min
Method:
Fry chopped cashewnuts and raisins in ghee and keep aside.
Boil milk and water in kadai.
Add Savorit Toasted Semia Rawa and allow it to cook for 3 to 4 minutes.
Add sugar and stir.
Add cardamom and ghee, stir well till ghee leaves the sides of the pan.
Garnish with cashewnuts and raisins.
Serve hot or chilled.