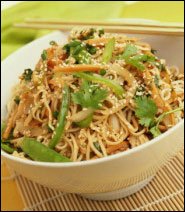 Ingredients:
Savorit Noodles 100 g.
Onions 50 g.
Beans 30 g.
Salt 1/2 tbsp.
Butter/Vanaspati 1 tbsp.
Carrot 50 g.
Tomato 30 g.
Coriander Leaves 2 tsp
Pepper Powder 1/2 tbsp.
Cooking time: 25 min
Method:
Cook Savorit Noodles in boiling water for 4 minutes, drain and keep aside.
Chop onions, carrot, beans, ginger, garlic, coriander leaves and tomatoes.
Heat butter or vanaspati and fry onions, ginger, garlic and chopped vegetables.
When onions turn brown, sauté tomatoes well.
When the vegetables are well cooked, add cooked Savorit Noodles, salt, pepper powder and mix well.
Remove from heat and serve hot with cucumber, tomato and onion rings.