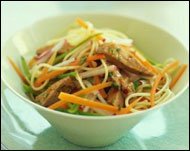 Ingredients:
Savorit Noodles 200 g
Garlic 3 pods
Carrot 2
Capsicum 1
Beans and Cabbage as required
Green Chillies 3
Coriander Powder 1 tbsp
Salt to Taste
Turmeric Powder 1/2 tsp
Cumin 1tsp
Pepper
Cooking time: 30 min
Method:
Cook Savorit Noodles according to instructions on the pack.
Mash garlic.
Cut carrot, cabbage and beans into thin long strips.
Heat oil, add mashed garlic, cut vegetables and cook partially.
To this add water, salt, coriander powder, cumin and turmeric powder.
Cook for 2 minutes.
To the above add cooked Savorit Noodles and pepper.
Simmer it for a while and serve hot.